[see previous entry for part 1]
JB and I were pretty stoked to check out a thrift store on the road. But I don't think we were fully prepared for MCC. As we started to poke around, "Leaning on the Everlasting Arms(of the Lord)" started playing over the speakers. This was our soundtrack. The clothes were grouped by color, which I'm always a fan of. The shoe racks were an amazing array of...black and brown shoes. All closed toe, all modest--only a pair or two of high heels. The clothes offered a better choice for color but all items were modest. I didn't see a tanktop.
The thrift store also offered amish hair bonnets and hats. There was a sizeable underwear section with THE biggest pair of mens briefs that I've ever seen. I kept circling around to confirm the sight of them hanging there. When I went looking for JB, I ran right into a giant end display of frightening baby dolls. In the corner somewhere, I could hear the babbling of a synthetic brook, but couldn't locate it visually. I found JB in the book section, squinting at a shelf. I think we should go, I whispered to him. He agreed and we did a fast walk out of there.
Perhaps if we had been prepared, then the interior wouldn't have been such a shock. We knew we were in amish country and respected that, but I couldn't get past how the girl had described this thrift store to us before we saw it for ourselves. "Oh it's AMAAAZING," she said, "I always find something there." It was sensory overload inside of there--the giant briefs, the modesty of EVERYTHING, the invisible babbling brook, the hymns on the speaker(oh Bob FM, how I needed you).
But an experience is an experience. It was time to move on.
Honorable mention: The Pro Football Hall of Fame is in Massillon. It looks like a giant citrus juicer:
Sidenote: JB has an impressive music collection. My favorite from our time on the road, Irma Thomas:
Ruler Of My Heart from AngElla on Vimeo.
On the way to Columbus I told JB to tell me his secrets. And then boom--we were in Columbus/Clintonville.
We showed up to the wrong apartment. We were due to crash at our friend Andrew's place. The two children who answered the first door were kind enough to tell us we were at the wrong place and said maybe we wanted the place around the corner. We backtracked one turn and ta-da! Made it to the right place.
Andrew and Angelle greeted us with open arms and a guest parking pass. After about 5 minutes I excused myself to lay on the futon. Vertical stances were driving me nuts due to being completely congested and feverish. They were so sweet and accomodating. We talked for a good while. Andrew's apartment was absolutely wonderful--high up with a tree right in front of the large living room window so it felt like you were hidden away. After settling in a bit, we cleaned up a bit and went to High Street to find food. I was babbling a bit incoherently about soup or thai food or fries or hot sauce. I have no idea. I felt partially delirious and was losing my voice. Despite this, I sucked it up and got fancy.
We had dinner at an international cafe. Our journey there was littered with way too many undergrads wearing OHIO shirts. The Buckeyes game had just finished up, and High Street is a crucial location to campus. Part of me kept forgetting and quietly wondering: how do SO many people love Ohio? JB and I tackled our tofu pad thai and, once again, I fought back tears when I realized I couldn't taste anything. I am not a fan of that sensation--to be doing the work of biting, chewing and swallowing and yet not receiving and signal of taste, satisfaction or reward. My mood was getting funky and I tried my damnedest to keep it under wraps around my company.
Location for reading number 2? Kafe Kerouac. Unfortunately I didn't snap any pictures of the place(aside from during the reading), but here are some I found online to give you an idea:
The entryway. So many gorgeous records:
Also a nice little zine collection, with copies of the amazing "Henry & Glenn Forever" which I've only read about. So awesome to thumb through in person:
Drinks named after authors: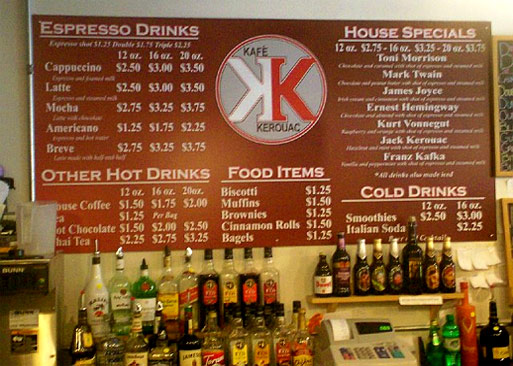 I loved this place. Loved, loved, loved(and still love). If you're in Columbus, make sure to stop in and have a drink. They are located at: 2250 N. High Street. Everything was wonderful and cozy. Records(as mentioned), shelves of books to pick through, mismatched chairs and a stack of board games under a lamp. I felt a little envious of everyone on campus--how lovely to have such an establishment! Nothing like it here at Pitt. Hemingways doesn't count.
Everyone there was awesome, and happy to have us. Sometimes when you walk into an already functioning building/coffee shop for an event people will give you the side-eye of annoyance--unexpected events can affect one's ability to, say, study in peace. I get that. However, Andrew did an amazing job with making flyers and promoting the gig locally, so people were ready to receive us and more than happy to help us with microphones and sound check. This was also the kind of place the held events pretty regularly so I think customers were used to it. There was a group of guys playing a game of Archipelago, and I was amused listening in on their conversation/game plan on how to continue the battle without having to stop. I think they agreed on a friend's apartment--they packed up a few minutes before showtime. JB and I set up at a circle table in the back with our stack of books and drinks.
a mini-merch display
We opted to go in alphabetical order--I would go first, followed by JB, then Matthew Connelly, then Andrew finishing. I was more than happy to go first--after downing a large iced coffee I felt ready to tackle the business at hand, despite a hoarse voice and clogged nose. As I said before, it's damn near impossible to pass up the opportunity to read and share and connect. I would figure out a way to breathe through it and make it work.
Next up, Part 3 to cover: the reading, the groupies, the most delicious hot toddy I have ever had.